Church School Vision, Aims and Values
Mission statement:
'Together is better, achieving excellence in happy schools.'
Vision and Aims
We aim to develop:
Successful life-long learners
Responsible citizens
Confident individuals
Effective contributors
Collaboration: We aim to work and learn together as a community, in an environment of trust in which everyone is important and valued, to create learners who show tolerance, respect and work well with others.
Confidence: We will provide opportunities to present, publish, exhibit and celebrate beautiful learning and provide quality feedback and discussion. We aim to develop learners who are happy and innovative and can celebrate successes and overcome mistakes.
Curiosity: We provide an interesting curriculum that excites, challenges, has purpose and relevance in real life contexts so that children become motivated, interested, questioning learners who feel able to take risks and have fun with their learning.
Resilience: We aim to provide high challenge for all and a safe place to have cognitive conflict ('The Learning Pit') so that children keep trying, don't give up and feel able to 'have a go' even if it is 'tricky' and could lead to a mistake.
Resourcefulness: We aim to provide innovative and inspiring leadership at all levels across the schools enabling our children to make links and show imagination.
Responsibility: Through high quality teaching and learning based on the principles of pedagogical research and quality CPD, we aim to encourage active learners who embrace challenges, take responsibility for and pride in their own learning.
Across both schools, in every class, we promote and develop these positive 'Yatton Learner' behaviours we believe are important in supporting the children to become effective life-long learners. Staff discuss these behaviours with the children and they recognise and praise them when they are observed trying hard to apply them in their day-to-day learning.
Our Vision map (attached below) shows how our vision, aims and values link together.
Yatton Church of England Junior School
The Junior School is a Church of England School and has its own distinctive Christian character. The school aims to provide its community with an education of the highest quality within the contexts of Christian beliefs and practices. We have close links with St. Mary's Church and other local places of worship.
Our Church School Foundation
Yatton Junior School was founded as a Church of England school. The school aims to provide an education of the highest quality within the contexts of Christian beliefs and practices.
Our Christian Vision:
We want to provide a happy, considerate, secure and supportive environment that promotes respect for self and others, valuing friendships and a life-long love of learning – life in all its fullness. (John 10:10.)
In short, as we say to the children:
We want to ... 'Grow, Celebrate and Make a Difference'
Our Goals:
Help children become happy, creative and confident.
Provide learning that realises the full potential of every child.
Provide the learning to develop skills that children will need to flourish in their future.
Provide an environment that encourages and enables human flourishing and fullness of life. (John 10:10)
Our Core Aims:
Achieve academic excellence by providing a broad curriculum that is stimulating, creative and which encourages enquiring minds, independent thinking and risk-taking.
Respect the views of all stakeholders with faith or no faith.
Develop a strong sense of school identity and belonging for all children and staff.
Strengthen partnerships with parents and community to promote social cohesion.
Foster and environment that promotes self-awareness and wider opportunities for learning, equipping children to flourish in an ever changing world.
Uphold standards of excellence in behaviours, nurturing positive attitudes towards learning.
Celebrate children's achievements in a wide variety of fields, raising self-esteem and instilling a sense of pride.
Ensure staff feel supported and valued, enjoying their contribution to children's education.
We want to ... 'Grow, Celebrate and Make a Difference'
Our Values:
Compassion Courage Equality Forgiveness Friendship Generosity
Justice Love Peacefulness Respect Trust Truthfulness
We share our vision, goals, values and aims with Yatton VC Infant School who are part of our school community too. We show this through our Mission Statement:
Together is better, achieving excellence in happy schools.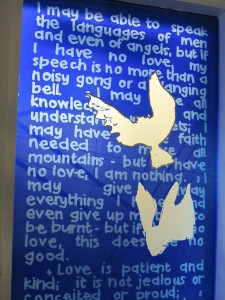 We are very proud of our Church School distinctiveness. Our Vision underpins and drives everything we do in our school. It is built upon our Christian Values which form the basis of our collective worship and inform the way we learn and behave towards one another.
Our school's Christian vision and values are at the heart of our curriculum provision, driving our commitment to provide the very best education for all children in a positive, inclusive and supportive environment.
We sometimes also have special days of activities during the year when the whole school has a time to reflect on a particular Christian Value or festival. An Ethos Group meets regularly to evaluate and explore ways to further develop our Church School distinctiveness. A Children's Ethos Group meets to ensure that the children have a say in this self-evaluation process and they are involved in assisting and leading aspects of Collective Worship. We have close links with St Mary's Church and other local churches. Worship leaders from the local community come in to lead services in school and the school celebrates key Christian festivals in St Mary's. The children also visit the Church as part of the curriculum.
I learned about Friendship. Now I have more friends by being kind. (Y3 child)
I liked doing Forgiveness Day … actually made me think about fall outs with my friends. (Y4 child)
'Courage' gave me more belief in myself. (Y5 child)
Our Values make you question your behaviour and who you should forgive. (Y5 child)
The Values help make you more respectful. (Y6 child)
Collective Worship
Collective Worship forms an important part of our school day, providing an opportunity for all children to come together to praise, give thanks and reflect. A planner for collective worship is drawn up termly built around our Christian Values and significant religious festivals. As well as teaching staff, there are regular opportunities for children to play a part in planning and leading collective worship. Local worship leaders also come in regularly to lead and the 'Open the Book' assemblies – where a team of adults from local churches performs Bible stories to Y3/Y4 children – are proving to be an exciting and popular addition to our collective worship programme. The children recognise the significance of collective worship in the school and can often identify ways in which exploring Christian values has had an impact upon how they behave towards others:
I learned about Friendship. Now I have more friends by being kind. (Y3 child)
I liked doing Forgiveness Day … actually made me think about fall outs with my friends. (Y4 child)
'Courage' gave me more belief in myself. (Y5 child)
Our Values make you question your behaviour and who you should forgive. (Y5 child)
The Values help make you more respectful. (Y6 child)
Here is our current overview of the values and themes being covered in collective worship this year:
Collective Worship Planner Terms 5 and 6 2020-21
Collective Worship Planner Terms 3 and 4 2020-21
Collective Worship Planner Term 1 and 2 2020-21
Harvest Service 2020: Watch our virtual Harvest Service, led by Linda from St Mary's Church:
Easter Service 2021
Unfortunately, once again we are unable to gather together in St Mary's Church as we normally would for our Easter Service; however, Linda from St Mary's and Michael from Yatton Methodist Church have recorded this Easter Service for us:
The lighting of our Paschal Candle:
Bible Reading
Each week children across the school read a passage from their Children's Bible which is linked to the current Christian Value being explored or to key Christian festivals in the church calendar. Meanings or messages from the Bible story of the week are regularly discussed in class or developed further in collective worship.
Our current Value in Term 6 2021 is: TRUTH and TRUTHFULNESS
Christians believe that Truth is revealed in the Bible in the person and life of Jesus. Through Jesus' teaching and the stories he told an insight into the nature of God and the way He wants us to live. When we look at our Christian value of TRUTH and TRUTHFULNESS through our worship and weekly Bible stories we encourage everyone to have the courage to be honest and truthful with each other and making the right moral choices. We consider the concept of being true to ourselves and the idea of searching for the truth.
"Tell the truth to each other" (Zechariah 8.16)
Jesus said, "I am the way, and the truth, and the life. No one comes to the Father except through me."
What some other people have said about TRUTHFULNESS and TRUTH:
"Never be afraid to raise your voice for honesty and truth and compassion against injustice and lying and greed. If people all over the world...would do this, it would change the earth."
(William Faulkner)
'Be truthful, gentle and fearless' (Mahatma Gandhi) - why do you think he believed truth should be told with gentleness?
'Stop hanging out with people that tell you what you want to hear. Hang out with people who tell you the truth.' (Eric Thomas)
"Proclaim the truth and do not be silent through fear." (St. Catherine of Siena)
'Three things cannot long be hidden: the sun, the moon and the truth" (Buddha)
'Truth is complete, it needs no exaggeration" (Anon)
"If you can't tell the truth to the people you care about the most, eventually you stop being able to tell the truth to yourself." (Cassandra Clare)
'A lie is like a snowball, it starts off small and then grows and grows until a point were it gets so big it falls apart and then the truth is discovered.' (Chris Hughes)
"Truth is like the sun. You can shut it out for a time, but it ain't goin' away." (Elvis Presley)
Which quote do you like the best? Which one means most to you? Why?
Our school vision says: 'We want to grow, celebrate and make a difference'. Can you think about how considering the value of Truth and Truthfulness might help us to do this?
A Prayer for Truth and Honesty:
Loving God of Truth
Thank you for the peace we feel when we are truthful. Please help us to have the courage to be honest and to stand up for the tings we know to be right, whatever the cost.
Amen
Truthfulness activity sheet
Opportunities for Prayer and Reflection
As well as in Collective Worship, children are given other opportunities for thoughtful reflection and prayer, for example in Jigsaw PSHE sessions. A prayer corner is provided where children can read prayers or bibles, share their own prayers on the 'Prayer Tree' or place their more personal prayers in the prayer box. The School feels very much supported by the Yatton Prayer Group who have regular contact with the Headteacher to pray for the school community and respond to the prayers placed in our prayer box by the children.
The Prayer Box ….
"helps you think about other people and try to help others". (Y3 child)
"helps ease any worries". (Y4 child)
"makes me feel better". (Y5 child)
Prayers with Children during Covid times: The Church of England has produced some child-friendly prayers which you may choose to share with your child at this time of the pandemic. Follow the link here
SMSC – Spiritual, Moral, Social, Cultural education.
Below you can read about some of the many SMSC opportunities we provide for the children.
We very much welcome your thoughts and ideas on how to further develop and enhance our Ethos and Church School distinctiveness. Please contact us with your views and suggestions!